Senate Debate: More Guns, Less Crime
25 Thursday Apr 2013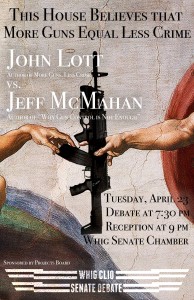 On Tuesday, April 23rd, Whig-Clio hosted a Senate Debate addressing the controversial topic of gun control by debating relationship between guns and crime in the United States.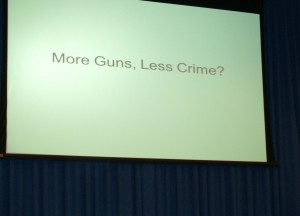 On the Clio side was Clio Party Chair Andrew Min and gun control expert John Lott. Lott, the author of the controversial book More Guns, Less Crime and a featured guest on Piers Morgan and Fox News, spoke first and made the case that there is no demonstrated link between an increase in gun regulation and a fall in crime.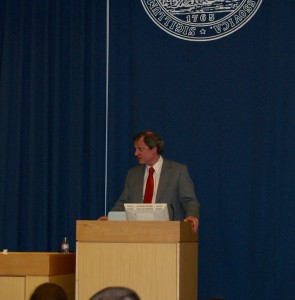 He made the case for the deterrent effect and asserted that as criminals rarely comply with gun restrictions, it is better for good and honest citizens to also maintain weapons.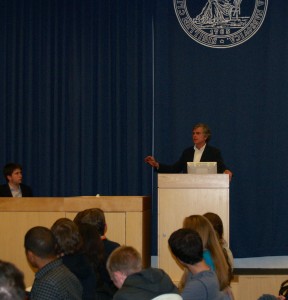 Whig Party Chair Mitch Johnston and Jeff McMahan, author of The New York Times op-ed "Why Gun Control Is Not Enough" and renowned Rutgers philosopher, defended the Whig Position. Professor McMahan argued that the increase in gun ownership among citizens makes the police and army more ineffective and inhibits their ability to keep society safe and protected.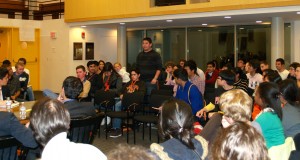 The debate then opened up for comments, questions, and opinions from the whole Senate Chamber. Many visiting Princeton Preview students took the opportunity to speak their minds and engage with the debate. Several foreign visiting prospective students spoke eloquently about the role of the police and guns in their society.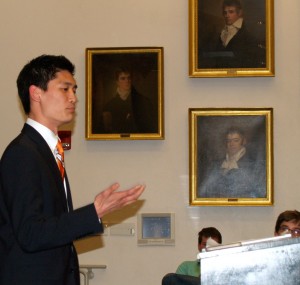 Clio Party Chair Andrew Min delivered the closing remarks for side Clio and reaffirmed Clio's position that more guns lead to less crime by placing more guns in the hands of more upstanding citizens.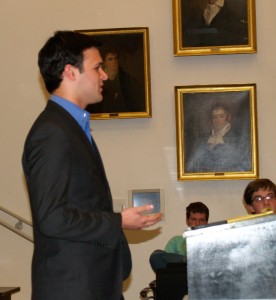 Whig Party Chair Mitch Johnston closed the debate by arguing that in certain circumstances, more guns do not lead to less crime and areas with these circumstances should be able to enact gun regulation or bans. The Senate Chamber voted but could not come to a conclusion – the debate ended in a tie, 25-25 on the resolution that more guns equal less crime.